Warning : This page has been marked as an archive because the author consider that its content is no longer relevant.
Aujourd'hui je suis tombé sur un problème assez étrange. Pour un projet j'utilisais des effets des transitions entre différentes images (une sorte de diaporama) utilisant la Windows Presentation Foundation Pixel Shader Effects Library. Tout allait très bien jusqu'au moment ou j'ai appliqué une rotation sur l'objet graphique contenant le dit diaporama. Et là horreur, ma bordure était aliasée.
Après quelques petites recherches je suis tombé sur ce post qui nous apprend que le problème survient sur tout les objets auxquels on applique des Effects et donc par définition, à tout les objets auxquels on applique des PixelShaders.
En utilisant le code fourni sur le post on peux aisément reproduire le problème et constater qu'il ne survient qu'au runtime.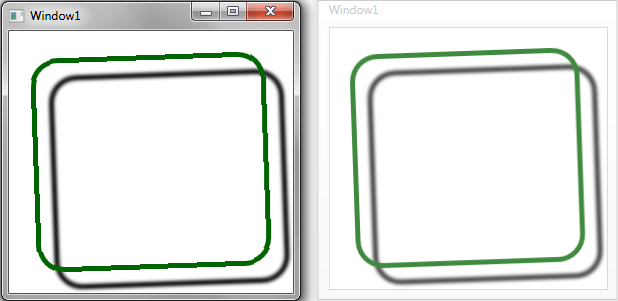 Brendan Clark nous informe que ce bug du framework sera corrigé dans la prochaine release, en attendant tous à vos workaround.